Join us online for the launch of the book 'Experiencing 11 November 2018: Commemoration and the First World War Centenary' (Routledge)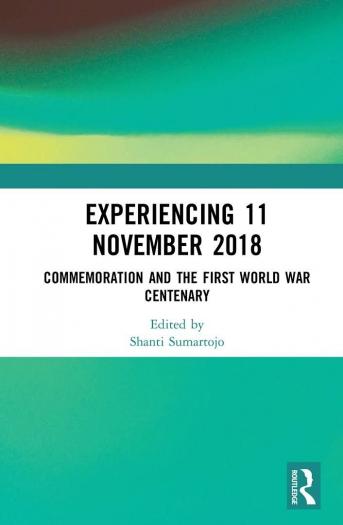 On 11 November, join us online on the occasion of the publication of Experiencing 11 November 2018: Commemoration and the First World War Centenary (Routledge). This book is the product of the reflection group "Commemoration Reframed" led by professor Shanti Sumartojo, who teaches at Monash University in Australia. The group met regularly for two years. CegeSoma both hosted these meetings and participated in the project, as a continuation of the BRAIN-MEMEX project "Memory and Experience" on the history and commemorations of the First World War in Belgium. The aim of "Commemoration Reframed" was to prepare a publication on the commemoration of Armistice Day on 11 November 2018 and how this one hundred anniversary was celebrated in different parts of the world.
International and interdisciplinary research
In a truly international and interdisciplinary perspective, this book is centred around the commemoration events organised around the world on 11 November 2018 for the Centenary. If one wants to understand the impact of such commemorations at societal, political, historical and cultural levels, it is necessary to decode and analyse these events beyond the speeches, reports and historical happenings. The sensory and sentimental perceptions as well as the role of emotions are scrutinised among other essential elements to better apprehend and understand histories which are both specific and shared, and further grasp how they can shape identity.
15 papers. 10 national contexts
The book will be presented by Jay Winter, emeritus professor at Yale University and leading expert in the history of the First World War and its impact on the 20th century.
It contains 15 contributions, covering a total of 10 countries, thus with very different national contexts and distinct war experiences. As a whole, these papers offer a new approach to the concept of commemoration, ranging from the participation in the events to the perception and celebration thereof.
On the occasion of this webinar, several of the authors will also be present to discuss their contribution to the book :
Chantal Kesteloot, CegeSoma (Belgium)
Laurence Van Ypersele, Professor at UCLouvain (Belgium)
David C. Harvey, Associate Professor at Aarhus Universitet (Denmark)
Emma Hanna, University of Kent (United Kingdom)
Kathy Smits, Associate Professor at University of Auckland (New Zealand)
Of course professor Shanti Sumartojo will also be present. Without her the project would not have been feasible and the book now published under her direction truly reflects the rich discussions she coordinated and which were held at CegeSoma.