The Holocaust in South-Eastern Europe: Historiography, Archives Resources and Remembrance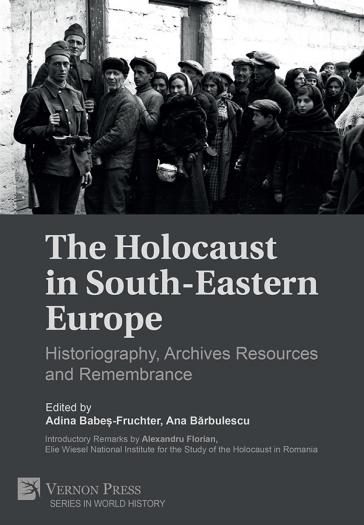 For many decades, the Holocaust in South-Eastern Europe lacked the required introspection, research and study, and most importantly, access to archives and documentation. Only in recent years and with the significant help of an emerging generation of local scholars, the Holocaust from this region became the focus of many studies. The present volume aims to introduce the current state of Holocaust research in South-Eastern Europe to different categories of scholars in the field of Holocaust studies, to students and to the general public. Considering the dialectical relationship between archival resources, historiography, and memory, the editors' goal is threefold: to make visible the road taken by this region's countries from a historiographical paradigm that obliterated the Holocaust to a gradual development of Holocaust studies; to unveil the richness of the archival collections regarding South-Eastern Europe and the multiplicity of Holocaust research topics still underrepresented within historiography; and to pinpoint the mnemonic difficulties that this part of Europe has in confronting its recent past. Furthermore, by elaborating on the cases of three different Western countries - Germany, Belgium (article co-authored among others by Veerle Vanden Daelen and Dorien Styven from Kazerne-Dossin, Belgium) and the Netherlands -, and describing the access to sources and Holocaust historiography for each one of them, the present volume makes it possible to identify important similarities and differences with several South-Eastern European countries as well.
The editors of the collective volume "The Holocaust in Eastern Europe: Historiography, Archives Resources and Remembrance," are Adina Babeş-Fruchter and Ana Bărbulescu. Adina Babeş-Fruchter, PhD in Political Sciences, is currently a European Holocaust Research Infrastructure researcher at the State Archives of Belgium/Centre for Historical Research and Documentation on War and Contemporary Society. Ana Bǎrbulescu, PhD in Sociology, is a senior researcher and head of the research department at Elie Wiesel National Institute for the Study of the Holocaust, Bucharest, Romania.
"The volume 'The Holocaust in South-Eastern Europe' highlights the centrality of open, transparent and well-documented archives for advances in Holocaust research and meaningful remembrance." Dr. Reto Speck, Co-Director EHRI