BRAIN project POSTWAREX started (2020-2022)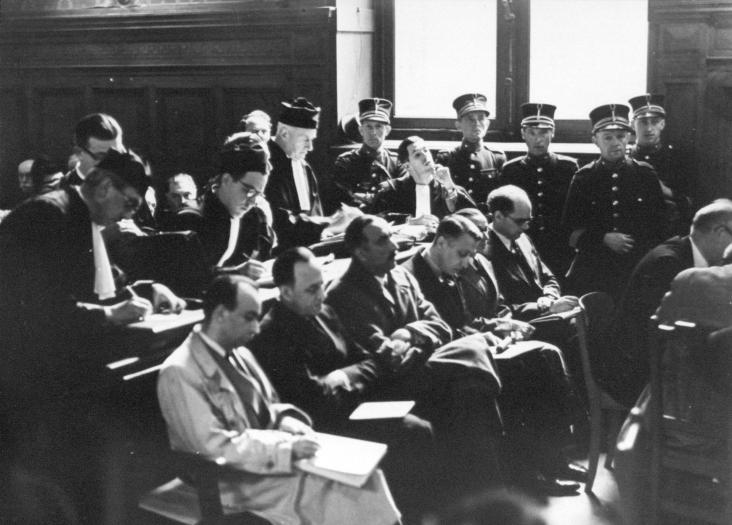 A couple of weeks ago, the new research project POSTWAREX was started. This joint two-year project by CegeSoma and the Royal Military Academy (Prof. S. Horvat and Dr. Dimitri Roden) is coordinated by Dirk Luyten (CegeSoma). It is an in-depth study of the significance of the death penalty as a sentence for acts of collaboration, based on military tribunal archives. For this project, CegeSoma recruited a new scientific collaborator, Elise Rezsöhazy, who recently earned her doctor's degree in history at Université catholique de Louvain (UCL).
The project is funded by the BRAIN 2.0 programme (Belgian Research Action through Interdisciplinary Networks) of the Federal Science Policy Office (Belspo); its purpose is to analyse the use of the death penalty after the Second World War by the military justice system as a means of repression against collaboration. This repression was one of the most extensive campaigns of legal action in Belgian history. Its impact on Belgian society lasts to this day.
The repression policy led to the execution of 242 persons who were sentenced to death between 1944 and 1950. It is the most extensive execution operation in the judicial history of Belgium. These 242 executions form an exception in the history of the Belgian judiciary, as no more executions took place after this time.
Archives-based research
The executions led to intense debates in Belgian society. So far, only some aspects of the 'group of 242' have been studied based on available sources. The transfer of the military justice archives to the State Archives now opens the way for further research in the entire corpus and into new aspects, by associating different types of sources produced by the military courts.
Furthermore, it offers the opportunity to shed new light on the group itself by contextualising the individual profiles of the executed in comparison to the whole group of persons sentenced to death, and by analysing all steps of the decision-making process of the military justice system, from the first criminal investigations until the execution.
The project draws on new research into the death penalty and executions by the military justice during the First World War, which was followed by a long period during which capital punishment was not applied.
Based on this research, the modalities of the decision-making process shall be presented to the large public via the website Belgium World War II, illustrated by couple of selected sources. All contextual elements shall also be factored in, so as to allow for a large societal debate.
The project shall also contribute to a better understanding of how the military judiciary archives are structured and shall provide an overview of all archival elements related to this group, serving as a pilot project for research into other groups.