Cent ans – et plus – d'ouvrages historiques sur la Première Guerre mondiale en Belgique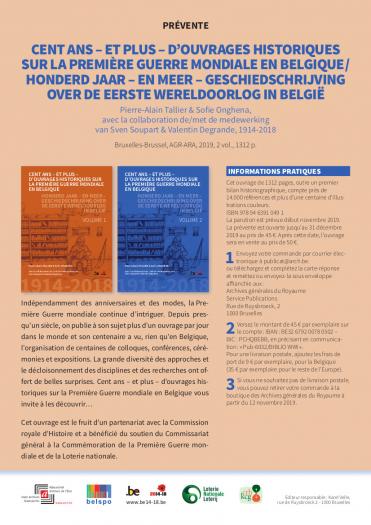 Beyond anniversaries and fashions, the First World War continues to intrigue. For over a century, more than one book a day has been published about it throughout the world and its centenary has seen, in Belgium alone, the organization of hundreds of symposiums, conferences, ceremonies and exhibitions. The great diversity of approaches and the opening up of disciplines and research have provided some pleasant surprises. The bibliography Cent ans - et plus - d'ouvrages historiques sur la Première Guerre mondiale en Belgique invites you to discover them. This work of reference(s), published in two volumes, offers a true historiographical review and lists nearly 14,000 references of monographs, articles, mixtures, conference proceedings, exhibition catalogs, theses and dissertations published in Belgium and abroad between 1985 and 2018 (for 1,312 pages and more than 100 color illustrations).
This third volume of the Bibliographie sur la Première Guerre mondiale was written and published by the National Archives of Belgium, in collaboration with the Commission royale d'Histoire and with the support of the Commissariat général à la Commémoration de la Première Guerre mondiale and the Loterie nationale (National Lottery). It constitutes as exhaustive a supplement as possible to the first bibliography on the Great War published in 1987 under the direction of Patrick Lefèvre and Jean Lorette. Over the last decades, research on WWI has become much more diversified and the historiography has undergone radical changes. Less attention has been paid to "battle history" and "great figures", in favor of studies on daily life at the front, with a focus on the individual and a growing contribution from the cultural history and mentalities. In addition, interest in all aspects of the occupation has increased sharply.
In recent years, research on the First World War has also been influenced by the internationalization of historiographic currents and the growing attraction for interdisciplinarity: military archaeology, the study of film and gender, artistic and literary history are some examples of the new approaches adopted to study World War I.
While the historical-local interest in the Great War never waned, the five years of commemoration of its centenary have generated a veritable tsunami of publications. The scale of this worldwide literary and historiographical production led the Australian historian Christopher Clark to state that "... no single historian (not even a fantasy figure with an easy command of all the necessary languages) could hope to read it in one lifetime" (Christopher Clark, Sleepwalkers: How Europe Went to War in 1914. London, Allen Lane, p. xxiv, 2012).
A reference tool(s) in the literal and figurative sense.