The Resistance in Antwerp during the Second World War
Study day (FelixArchief - Antwerp)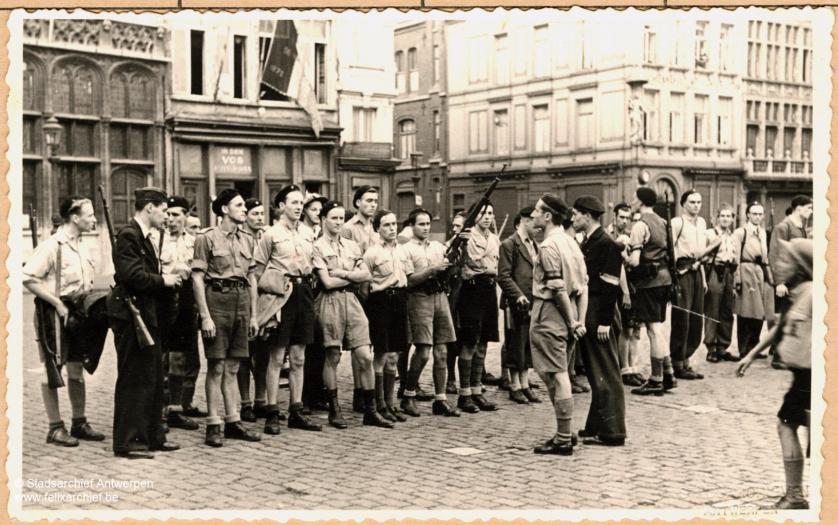 Antwerp was the most important city for the resistance in Flanders during the Second World War. This resistance in Antwerp was as diverse as the city itself: men and women, French-speaking bourgeoisie and communists, Jews and Catholics, people from the left and the right of the political spectrum. In recent years, we have seen a rising interest in the resistance in Belgium during the Second World War, as reflected by this study day organised by CegeSoma/State Archives in collaboration with the FelixArchief of the City of Antwerp and the Vredescentrum. In the course of this day, the state of affairs with regard to research about the resistance will be presented and a discussion about the relevance of resistance today and tomorrow will round off the day.
The study day takes place at FelixArchief in Antwerp on 10 May 2023. Registration is free but mandatory. Simply send a message to: stadsarchief@antwerpen.be.
Welcome to all of you!
PROGRAMME
9.00-9.30 - Welcome
9.30-9.40 - Welcome address I Marie Juliette Marinus, FelixArchief
9.40-10.15 - Het verzet in Antwerpen: synthese en krachtlijnen I Nico Wouters, CegeSoma/State Archives
10.15-10.45 - Session 1: "De onvergetelijken Fidelio": Marcel Louette (1907-1978) als pionier in het verzet I Babette Weyns, UGent
10.45-11.15 - Coffee break
11.15-11.45 - Session 2: "Voor vrede, brood en vrijheid": straatprotest van Antwerpse volksvrouwen tegen de bezetter (mei 1941) I Michèle Corthals, UAntwerpen
11.45-12.30 - Open floor discussion
12.30-13.30 - Lunch
13.30-14.00 - Session 3: Het georganiseerde Joods verzet in Antwerpen: een stand van zaken I Janiv Stamberger, Vredescentrum; Dorien Styven, Kazerne Dossin
14.00-14.30 - Session 4: Collectieve herinnering versus oorlogsrealiteit: de politie van Deurne en het verzet, 1942-1944 I Herman Van Goethem, UAntwerpen
14.30-15.05 - Open floor discussion
15.05-15.30 - Coffee break
15.30-16.30 – Open floor discussion and conclusions I Marnix Beyen, UAntwerpen; Bruno De Wever, UGent; Nico Wouters, CegeSoma/Rijksarchief
16.30 - Reception
Host and floor leader: Frank Seberechts, FelixArchief