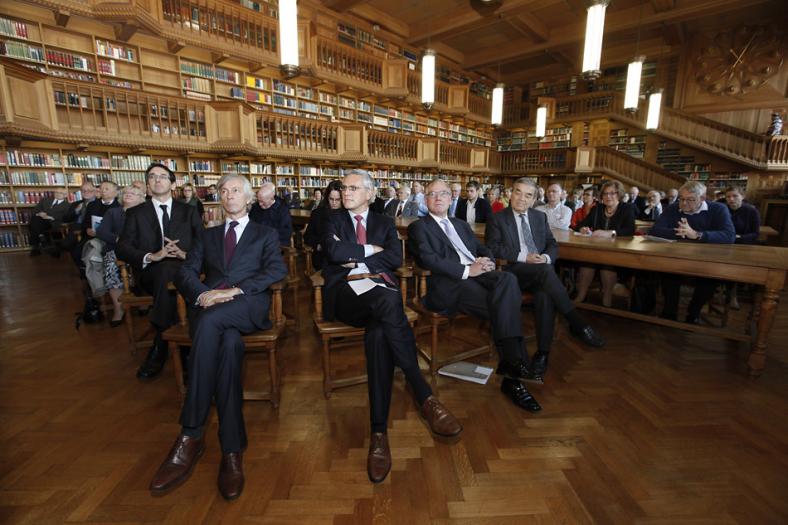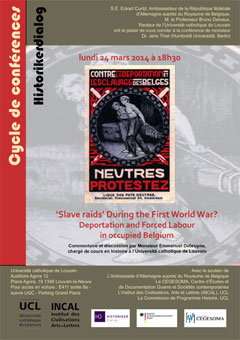 The Historikerdialoge were a series of lectures and debates that took place between 2012 and 2015 in the context of the centenary commemorations of the First World War. The series was coordinated by CegeSoma, in collaboration with the Belgian and German universities, and launched on the initiative of the German embassy in Brussels. The basic idea was always to confront a German historian or scholar with a Belgian colleague in a debate about a specific historical theme directly related to the First World War. The inspiration was found in the collapse of intellectual internationalism in the context of the First World War, and specifically the well-known example of the broken friendship between Belgian historian Henri Pirenne and his German colleague Karl Lamprecht. Although the underlying context of the series was one of Pacifism and reconciliation, the content of the series was mostly historically and academic. For the majority, the lectures and debates were held in English.
Here is the overview of the different debates and lectures :
2012
12 December 2012, KU Leuven, 'Germany and the Origins of World War I', M. Epkenhans (Podam), Martin Kohlrausch (Leuven)
2013
23 april 2013, Antwerpen (KULeuven, Campus Antwerpen) Die Presse als Kriegstreiber? Medien und Diplomatie vor dem ersten Weltkrieg, Dominik Geppert en Marnix Beyen
7 mei 2013, Leuven (KU Leuven) The attack on Belgium and the defence of "German freedom": German historians and their involvement in a war of culture since August 1914, Christoph Cornelißen en Mark Derez
16 oktober 2013, Luik (Université de Liège) La Première Guerre mondiale en bande dessinée , Susanne Brandt (Heinrich Heine Universität, Düsseldorf) Prof. Dr. Philippe Raxhon en Dr. Christophe Bechet.
2014
24 Maart 2014, UCL, 'Slave raids' during the First World War? Deportation and Forced Labour in occupied Belgium", Jens Thiel (Humboldt Universität, Berlin) en Emmanuel Debruyne (Université Catholique de Louvain);
22 May 2014, 'Gender and sexuality during the First World War' Christina Kott en Tom Verschaffel
16 September 2014, 'Examining Belgian and German Schoolbooks on WW I' Kerstin Schwedes en Kaat Wils
6 November 2014, 'Expériences et représentations de la pénurie alimentaire durant la Guerre 14-18. Allemagne-Belgique' Gerd Krumeich (Heinrich Heine Universität Düsseldorf) en Laurence Van Ypersele
7 November 2014, 'Totalizing War or Total War? Occupation Regimes of the First World War in European Comparison', Jörn Leonhard (Universität Freiburg) en Axel Tixhon (UNamur)
2015
22 januari College of Europe, Brugge 'Unifying Divisions. Are there Shared European Memories on WWI?" (Aline Sierp (Maastricht University) en Philippe Perchoc (UCL)
26 februari 2015, 'Flamenpolitik, activisme, frontbeweging. De Vlaamse beweging en het Duitse rijk, 1914-1918', Lode Wils (KU Leuven) en Gerhard Hirschfeld (Universität Stuttgart)
12 maart 2015, ULB, "The Leipzig Trial, Failed Precedent for a Century of International Justice", Gerd Hankel (Hamburger Institut für Sozialforschung) Pieter Lagrou (ULB)
1 juni 2015, 'Facing War : Internationalism, Peace Movements and Freemasonry' , Joachim Berger (Leibniz-Institut für Europäische Geschichte (IEG), Mainz) Jeffrey Tyssens (VUB)
5 oktober 2015, UCL, The Final Disillusion: The Unmaking of Kaiser Wilhelm II in World War I" , Martin Kohlrausch (KU Leuven) en Laurence van Ypersele (UCL)
26 oktober 2015, 'Deconstructing the Myth of War Enthusiasm in the Summer of 1914 from a Gender Perspective' , Christa Hämmerle (Universität Wien) en Henk De Smaele (U Antwerpen)
5 november 2015, 'World War I and Religion', Lucian Hölscher (Ruhr-Universität Bochum) en Patrick Pasture (KU Leuven)
2016
17 februari 2016, ULg, 'L'Allemagne dans les relations scientifiques internationales après 1918', Peter Schöttler (CNRS/Freie Universität Berlin) en Christoph Brüll (FNRS-Université de Liège)