Study Day on the Resistance at the State Archives in Liège
Review of a successful initiative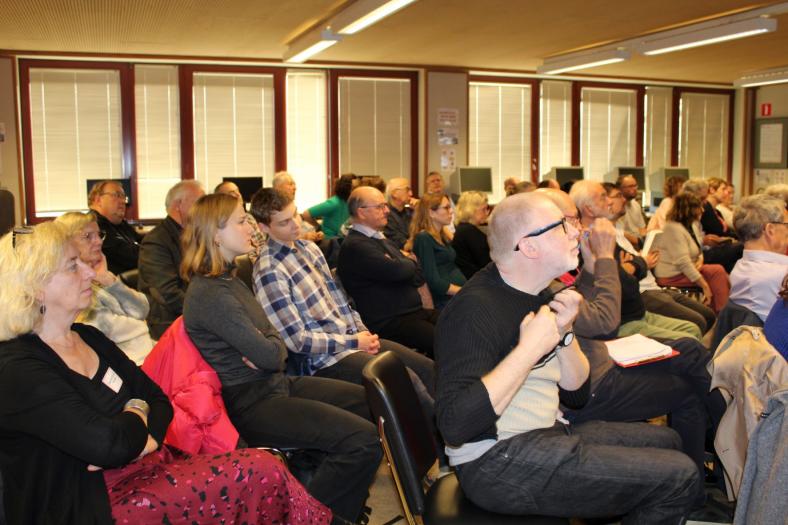 On 17 October 2022, the State Archives in Liège and CegeSoma organised an information and reflection day in Liège focusing on new tools that have been made available to the public and are aimed at refreshing and disseminating the history of the Resistance during the Second World War in Belgium. What follows below is a summary of the day's proceedings and links to the slides of the papers presented.
The morning session was dedicated to a general overview of the topic, an introduction to the website Belgium WWII and an evocation of the rich collections of the State Archives in Liège.
After the Head of Service, Michel Trigalet, gave his welcome address, Fabrice Maerten of CegeSoma presented an overview of the Resistance and related sources to the over sixty attendees. His colleague, Chantal Kesteloot, then summarised the the multiple ways in which the website Belgium WWII can help enrich one's knowledge of the subject. After that, Anne Jacquemin and Bernard Wilkin, both from the State Archives in Liège, discussed several relevant archival fonds preserved at the Liège repository, including the the archives of patriotic associations and the files created in the course of inquiries of the public prosecutor in Verviers into persons who were presumed to have died during the Second World War.
The afternoon session was dedicated to the resources of IHOES, the innovate Wikibase Resistance project and discussion
Micheline Zanatta, president of IHOES first highlighted the numerous archival fonds related to the Resistance held by the Institut d'Histoire ouvrière, économique et sociale. Anne Chardonnens of CegeSoma then introduced the project Wikibase Resistance that will (and already partly does) improve accessibility to hundreds of thousands of files about resistance fighters created in the wake of the conflict, while also allowing for an analysis of the Resistance "from below".
Finally, four debate sessions were hosted respectively by Fabrice Maerten of CegeSoma (How to retrace the history of the Resistance in your municipality), Lionel Vanvelthem of IHOES - Benjamin Blaise & Julien Paulus, Territoires de la Mémoire (How to enrich and valorise the history and memory of the Resistance today), Chantal Kesteloot of CegeSoma (How to concretely set up projects aimed at exploiting the findings obtained via publications, expositions…) and Vincent Vagman of Projet-Histoire (How to retrace the history of the Resistance in your family). These sessions gave attendees the opportunityto discuss their favourite subjects with the different hosts.
A history still in the making
Michel Trigalet provided the concluding remarks to bring to a close a study day marked by its conviviality (thanks to the State Archives in Liège for their flawless organisation!) and the richness of the papers and debates. The originality and variety of the presentations and discussions, as well as the interest of the attendees demonstrated that the history of the Resistance still has a bright future ahead of it.