L'histoire d'espoir de la résistante armée Sarah Goldberg
Public History Encounter of the CegeSoma (2019 - 4)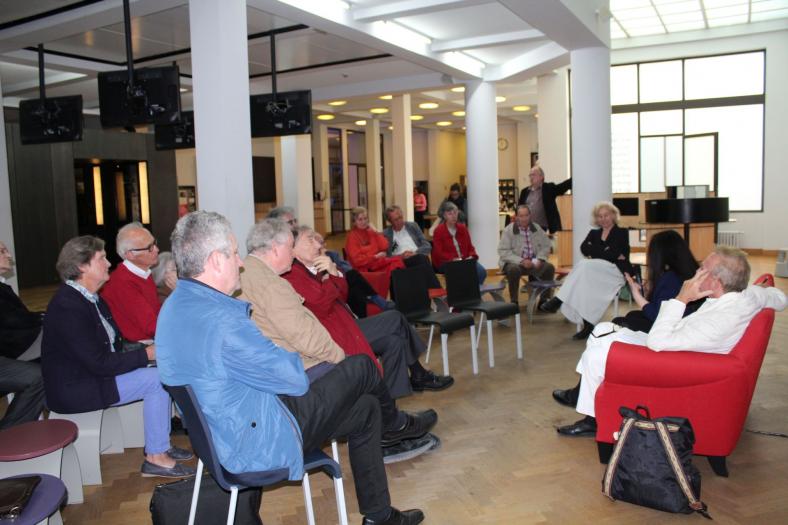 Pour sa quatrième Rencontre d'Histoire publique, le CegeSoma invitait avec la complicité de la Cinematek, à la projection du film de Patricia Niedzwiecki 'L'histoire d'espoir de la résistante armée Sarah Goldberg' (6e film de la collection mémorielle 'Les trous de la mémoire') et à un débat avec sa réalisatrice.
Sarah Goldberg was born in Warta (Pologne) on the 1st of January 1921 and passed away in Brussels in 2003. As an early Jewish Resistance fighter and survivor of Auschwitz-Birkenau, she delivers a moving and strong historical testimony through this movie. As a committed teenager, she joins the campaigns in support of the International Brigades in 1936. In 1941, she works for the Soviet military intelligence network Red Orchestra for a couple of months, while officially being employed as a secretary at a hat retailer in Brussels. She learns to operate a radio transmitter, to send coded messages and becomes a messenger within the network. Next, she is 'enrolled' in the 1st Jewish company of the Mobile Corps of the Armed Partisans that was under the direct command of the Independence Front and carried out surveillance of traitors and collaborators. In June 1943, she is arrested at her home after having been betrayed. She is deported. After having suffered the worst imaginable pains, she is liberated in April 1945 by the Red Army. After the war, she dedicates her life to testifying about what she experienced and to fighting all forms of racism so that future generations may 'never forget'.
Avec beaucoup de sensibilité, de pudeur, et une grande qualité d'écoute, Patricia Niedzwiecki nous conduit à travers le documentaire dans les pas du destin d'une femme exceptionnelle au parcours de vie hors norme.