Guerre, famille et transmission
Colloquium project 'TRANSMEMO' (memories of collaboration and resistance)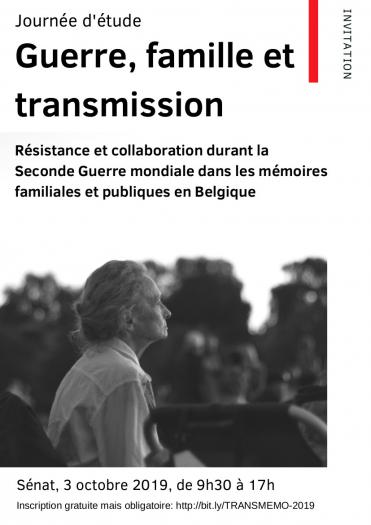 On Thursday 3 October 2019 we will co-organize a conference of the research project TRANSMEMO in the senate of Belgium. In this project historians and psychologists investigate how Belgian families with a history of collaboration or resistance remember and experience the legacy of the Second World War. During a full-day program TRANSMEMO will present the results of the research while political scientists, psychologists and historians will reflect on the legacy of this past.
The program is aimed at a wider audience, with artistic breaks and a debate between opinion formers from both language communities. Specialists will also give advice on the existing sources to reconstruct one's own family history. Speakers are members of the TRANSMEMO research team : Nico Wouters and Florence Rasmont (CegeSoma-State Archives in Belgium), Olivier Luminet, Aline Cordonnier, Pierre Bouchat and Valérie Rosoux (UCL), Bruno De Wever and Koen Aerts (UGent). The entire day will be coordinated by Chantal Kesteloot (CegeSoma/ State Archives). External specialists that will give a presentation are : Jan De Mol (psychologist, UCL) and Chris van der Heijden (historian, De Groene Amsterdammer).
Artistic breaks are provided by Laurence Vieille (theatre and poetry) and Wim Claeys (music). The debate will be held among Christian Laporte (La Libre Belgique), Béatrice Delvaux (Le Soir), Marc Reynebeau (De Standaard) and Jeroen de Preter (Knack).
You can find the invitation for the conference dedicated to the TRANSMEMO project here.