'Cultures of spectacle' during WWI and WWII: new thematic issue of JBH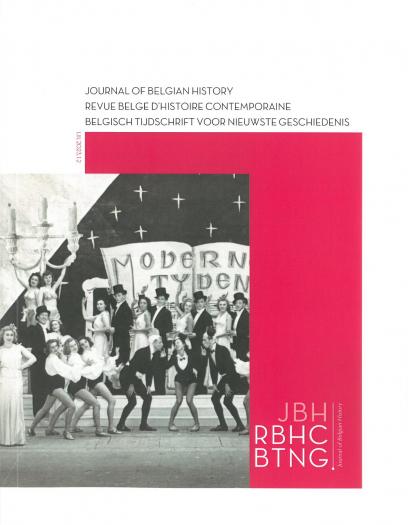 In late March 2023, the new double thematic issue of the Journal of Belgian History was published. Guest editors Roel Vande Winkel and Leen Engelen (both from KU Leuven) presented a thematical issue in English about the cultures of spectacle and amusement in German-occupied Belgium during the First and the Second World War. This issue presents twelve papers from the same number of authors and forms the written product of the study day of the Institute for Media Studies of KU Leuven held on 12 and 13 March 2020 at CegeSoma.
Leen Engelen (UAntwerpen & KU Leuven) & Roel Vande Winkel (KU Leuven) open the thematic issue as guest editors with papers in which they advocate for interdisciplinary research into 'cultures of spectacle' in the broader sense.
The papers by Margo Buelens-Terryn (UAntwerpen), Evelien Jonckheere (UAntwerpen) and Klaas de Zwaan (Vrije Universiteit Amsterdam) all discuss the use of projection lanterns during WWI in different cases in Antwerp, Brussels, Mortsel and the neutral Netherlands. Next, Erik Spinoy (ULiège), a specialist of Paul van Ostaijen, examines how the latter used various references to contemporary cinema culture in his poem "Bezette Stad" (1921). The renowned film specialist Guido Convents looks at the 'receiving end' of art and culture, by analysing film distribution and exhibition in occupied Belgium during WWI. Leen Engelen focusses on a particular 'cultural site' during WWI, namely 'Louvain Palace' in Leuven, as a crossroads of different cultures of spectacle.
The Second World War is also addressed. Louis Fortemps (Institut de Recherches Historiques du Septentrion bij de Université de Lille & Institute for Media Studies of KU Leuven) & Roel Vande Winkel analyse the policies of the German "Propaganda-Abteilung Belgien". Music historian Erik Baeck investigates the German policy with regard to the scheduling of operas in occupied Belgium, both during the First and the Second World War. Musicologist Hedwige Baeck-Schilders also addressed both occupation periods in her paper, but focusses on symphonic concerts in Antwerp. Eric Derom is another specialist in music history, he delves into the scheduling of the Great Symphony Orchestra of Belgian Radio during WWII.
Finally, Sophie De Schaepdrijver (Pennsylvania State University) draws a strong conclusion in this thematic issue by reflecting on the various manners in which repressive occupation regimes can interact with popular entertainment an culture in the broad sense.
This double issue is available for 25 Euros (shipping not included) and can be ordered from Hilde Keppens, CegeSoma, Luchtvaartsquare 29, 1070 Brussels, +32 2/556 92 11 - Hilde.keppens@arch.be.
For further information we gladly refer to the website about film in occupied Belgium of KU Leuven, managed by Roel Vande Winkel.