Journal of Belgian History – 2016, nos. 3-4
Our journal is vitally important for who wishes to follow recent developments of academic research on contemporary Belgian history.
Our new double issue contains six articles that focus on innovative research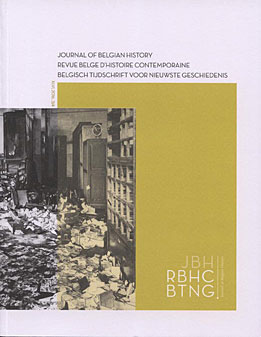 The subjects are varied: the magistracy and the resistance during the Second World War (in Dutch), the link between fertility and economic development in Wallonia (18th – 20th century) (in French), the debate on the myth of the Belgian franc-tireurs during the First World War (in German), the electoral reforms in Belgium and the Netherlands after 1945 (in Dutch), the role of the government with regard to food security (second half of the 19th century) (in French) and the impact of the so-called 'mecanography' on the development of social security (after 1945) (in Dutch).

We are in the middle of the wave of commemorations of 14-18 and have therefore dedicated the debate section to these commemorations. There is room for critical reflection on the phenomenon of the commemorations, but also for the new research topics that question the distribution of this knowledge on the First World War.
To order (50€ - postage not included), see the website of the journal: www.journalbelgianhistory.be
14 / 2 / 2017