International colloquium– Minorities in/at War - 9 & 10 March 2017
On 9 and 10 March 2017, the Jewish Museum of Belgium in collaboration with CegeSoma organizes an international colloquium at the Royal Library of Belgium: "Minorities in/at War". The violence perpetrated against minorities is one key issue, while their legal protection, is another. The conference tackles the period from 1912 to 1923. Lectures by historians from Europe, North America and the Middle East will be alternated with discussions. Attention will also be given to contemporary issues related to these questions.
Registration and info here.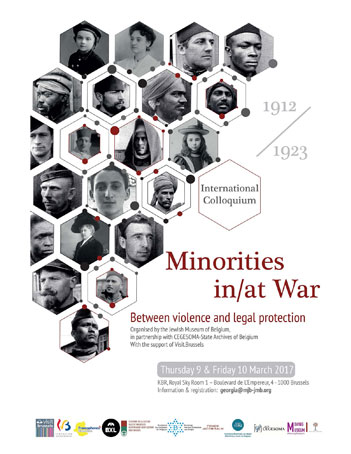 Practical information
- The colloquium will be entirely in English. Questions in French or Dutch may be accepted, depending on the language skills of the session chairs and the speakers
- Thursday 9 March 9 am - 5 pm – Friday 10 March 9 am - 12.45 am
- Venue: Royal Library of Belgium, Mont des Arts, 1000 Brussels
- Audience members must register via email here.
17 / 1 / 2017