In Enemy Territory. Experiences of Occupation; transfers, legacies (1914-1949)
Periods of commemoration often offer opportunities in the editorial field. But it must be said that these publications are not necessarily novel historiographical contributions. Where occupation is concerned, it must be concluded that it has been the subject of many studies. So, is there really nothing new to be discovered?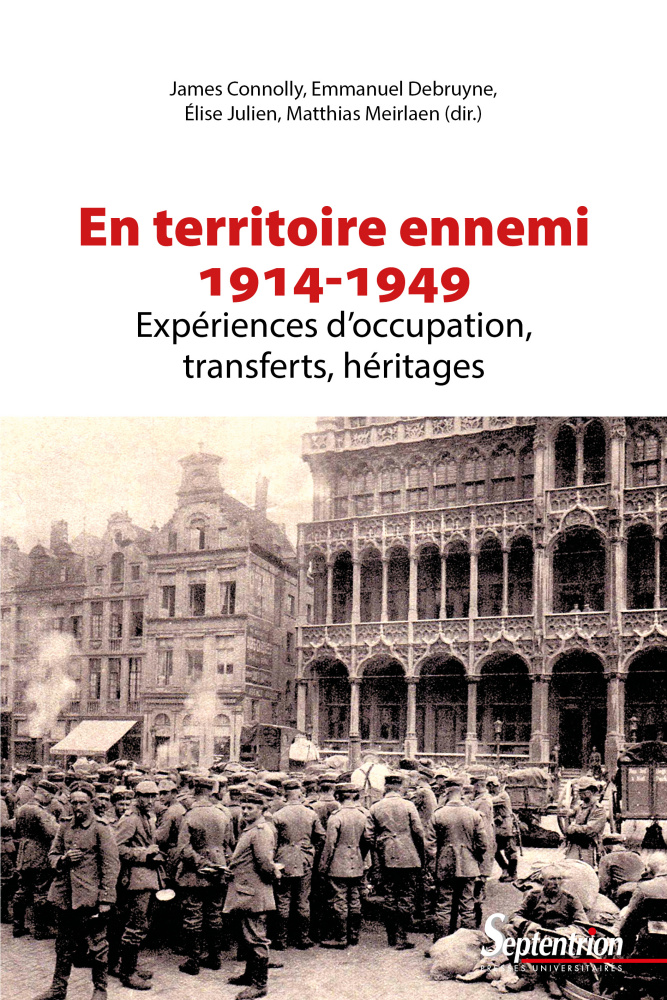 A closer look reveals a more nuanced reality. The phenomenon has been studied in depth where the Second World War and later conflicts are concerned, but not in the case of the First World War which, among other reasons, has long been eclipsed by the Second World conflict.

Since the 1990s, the historiography of the First World War is undergoing a dramatic renewal. The question of the occupations plays an important role in the context of new research on the questions of war violence, the experiences of the civilian population, the events linked to war endings or to the memory of the conflict.

The publication 'En territoire ennemi. Expériences d'occupation ; transferts, héritages (1914-1949)' reveals very well the renaissance of this historiography, but also reflects the wish to leave the traditional chronological and geographical context.
Several colleagues or ex-colleagues of the CegeSoma team are involved. It is the result of two study days: "Vivre l'occupation sur le front Ouest pendant la Première Guerre mondiale" and "Occupations and transfers of experience. From one front to another, from one war to another" that were held in the spring of 2015.
The publication was edited by James Connolly, Emmanuel Debruyne, Elise Julien and Matthias Meirlaen , with an introduction by  Sophie De Schaepdrijver, and takes a closer look at the reality of occupied societies in 1914-1918, but also at the consequences of this period for a number of actors such as mayors.
It extends beyond the geographical French-Belgian context by focusing on Eastern Europe and on the post-war French occupation zone of Germany. It concerns without doubt an essential new view on classical conceptual and geographical frameworks, with new perspectives opened by the concept of transfer.

In short, this is a publication that should be discovered in order to better understand occupied societies through the prism of the actors concerned, as well as the post-war periods and the memorial phenomena in all their diversity.
Chantal Kesteloot
22.2.2018