Florent Verfaillie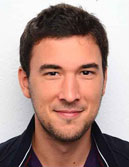 Florent Verfaillie (°1987) has a degree in history at the Université Catholique de Louvain. His thesis was on the analysis of the commemorations of the Belgian, Flemish and Walloon national holidays in the inter-war period. He also holds a master in European studies at the University of Kent examining the subject of comparative federalism.
On 1 March 2014, he has joined the team of CEGESOMA. He participates in the research project Great War from Below. Multiple Mobility and Cultural Dynamics in Belgium (1900-1930).
In this context, he is writing a PhD on the social impact of the First World War in Belgium, focusing in particular on the trajectories of members of the resistance and collaborators, as well as of their families.
02/556.92.62   -  Florent Verfaillie