Volonteers – Departure of the Most Senior Member of the Team
After Gilbert Waeyenbergh, who after 20 years of intensive work accomplished the complete filing of the photographs of the pro-German press agency Sipho, left CegeSoma in December 2013, we now face the departure of the dedicated Pierre Brolet. He will leave the Centre this November 2016. He leaves us with dozens of inventories and lists allowing an easy access to the multiple archive collections.


A Continuation of a Long and Productive Career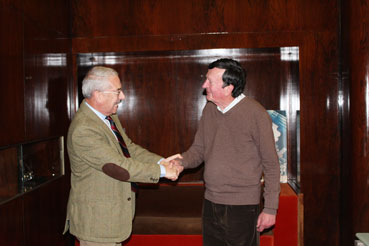 Pierre Brolet (right) congratulated by Acting Director DO4 CegeSoma/AGR Dirk Martin on 7 November 2016, day of his departure.

 
Pierre Brolet was born in Berchem-Sainte-Agathe on 1 April 1940. In 1962 he obtained a licentiate in commercial and consular sciences at the Institut supérieur de commerce de l'État in Antwerp. He lived in Brussels, where he was first a publicity agent in a private firm before starting a career in the public service: he was a cabinet member of the State Secretary for the Brussels Regional Economy, Henri Simonet. He then worked at the Ministry of Employment and Labour, and ends his career as Senior Advisor of the Parliament of the Brussels-Capital region.
Soon after his retirement, he joined CegeSoma as a volunteer in September 2001. He remained for fifteen years, working in the archives two half days a week
Two Remarkable Collections
Among the many archive funds that Pierre Brolet classified, two were of particular interest to him. The first is the oeuvre of the late Georges Van Merode, ex-Foreign Legion who had a passion for Second World War planes. He collected a voluminous documentation on the missions carried out during the conflict by the warring parties (AA 2491). For three years, our volunteer has classified the fund, by air force and by type of airplane and by separating Belgium from the rest of the world. The list of 205 binders allows easy access to the collection.
The collection François Berdondini, which carries the name of an Italian soldier and prisoner of war, is certainly less substantial (AA 2236). But the letters of this Italian of Liège to his fiancé in Belgium seems to have touched the sensitive and intimate nature of our volunteer.
A Reduced Team
With the departure of Pierre Brolet and, in June 2016, of Paul Bertiau, who worked since the autumn of 2012 for the archive department, the team of volunteers now consists only of Gilbert Pandelaers, Bruno Picard, Nico Theunissen and Christian Vanneste for the archives, and of Mania Kozyreff for the press cuttings.
More than ever we welcome helping hands to assist us in classifying our many acquisitions!


18 / 11 / 2016