Cities at war, 1914-1918. Wallonia
Alain Colignon & Mélanie Bost
La Wallonie dans la Grande Guerre, 1914-1918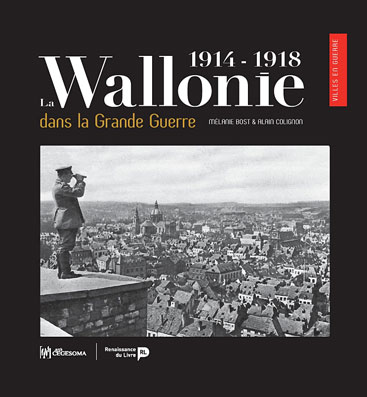 The authors of La Wallonie dans la Grande Guerre relate the experiences of the Walloons during the First World War through the medium of the image. They examine how the major challenges of this turbulent period are reflected by means of photographs, postcards and the illustrated press.
A New Perception on the First World War
Via a collection of photographs taken by the occupier or also by "local" amateur or professional photographers, Alain Colignon and Mélanie Bost have tried to depict challenges of a tragic period: the invasion and the German massacres of August 1914, the installation of the occupying authorities and the policies of exploitation of the Walloon population, the day to day life of the citizens confronted with many shortages, the presence of an enemy army on the territory and, in general, the continuing violation of his familiar environment. And all the while heavy fighting continued nearby.
An Original Illustrated History
After the publication of the books on Brussels and Antwerp in the series "Villes en guerre", this work, based on an original photographic heritage of great quality, endeavours to present the personal experiences of the Walloon population during the First World War. Focusing on the larger cities (Liège, Charleroi, Namur, Mons…), the industrial areas (Borinage, Pays noir, Centre, Mouscron…) and a number of smaller towns (Arlon, Huy, Wavre…), this publication presents an original "History of the Walloons" during the Great War.
The book can be ordered at CegeSoma via email (cegesoma@cegesoma.be) or telephone (00 32 2 556 92 11) at the price of 20 € (shipping not included) instead of 22,90 € (bookseller's price).

La Wallonie dans la Grande Guerre 1914-1918 [Alain Colignon & Mélanie Bost], La Renaissance du Livre, 2016, 176 p.
To consult the list of our publications, click here.
1 / 12 / 2016