Deux siècles de justice
Margo De Koster, Dirk Heirbaut, Xavier Rousseaux (Dir.)
Deux siècles de justice. Encyclopédie historique de la justice belge / Tweehonderd jaar justitie. Historische encyclopedie van de Belgische justitie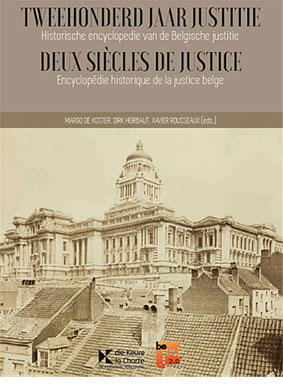 During the shocking moments of the Dutroux affair, a commonplace remark was that Belgian justice ought to move on from the 19th to the 21st century. In reality, this judiciary system has developed continually with the ebb and flow of the priorities of Belgian society. Initiated by the programme and research network « Justice & Society : Socio-Political History of Justice Administration in Belgium, 1795-2005 » of the Belgian Federal Science Policy, this Encyclopédie proposes an overview of the state of knowledge on the history of justice in Belgium.

The 28 contributions look from a fresh perspective at the political and intellectual foundations, the organization and the politics of management, the stakeholders and professions linked to the exercise of justice, and also at the influence of social developments on Belgian justice from the Revolutions to the turmoil of the late 20th century.
To consult the table of contents, click here.
The book can be ordered at CegeSoma via email (cegesoma@cegesoma.be) or telephone (00 32 2 556 92 11) at the price of 60 € (postage not included) instead of 82 € (bookseller's price).
Deux siècles de justice. Encyclopédie historique de la justice belge / Tweehonderd jaar justitie. Historische encyclopedie van de Belgische justitie [Margo De Koster, Dirk Heirbaut, Xavier Rousseaux (dir.)], Bruges/Bruxelles, die Keure/la Charte, 28 x 20 cm, 2015, 608 p. 
 

To consult the list of our publications, click here.