Justice in Wartime and Revolutions
Margo De Koster, Hervé Leuwers, Dirk Luyten, Xavier Rousseaux (eds.)
Justice in Wartime and Revolutions. Europe, 1795-1950 /
Justice en temps de guerre et révolutions. Europe, 1795-1950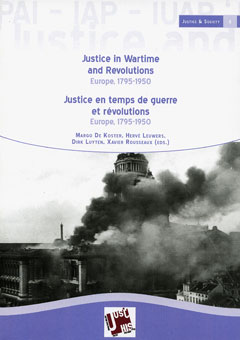 Some 20 contributions by Belgian as well as foreign specialists treat various aspects of the work of justice in times of war and revolution, from the French revolution until 1950.
Particular attention has been given to the two world wars. Various questions and actors are addressed, such as the work of military justice during World War One, mob justice during revolutionary periods, and the significance of international law. Furthermore, the focus is on specific groups and actors such as police, children, or lawyers active in international networks. A number of contributions were devised as comparative studies. To consult the contents, click here.
The book can be ordered at the CEGESOMA (Lut Van Daele or 00 32 2 556 92 07) at the price of 15 €, postage not included.

Justice in Wartime and Revolutions. Europe, 1795-1950/Justice en temps de guerre et révolutions. Europe, 1795-1950 [Margo De Koster, Hervé Leuwers, Dirk Luyten, Xavier Rousseaux (dir.)] (Justice & Society, 6), Brussels, State Archives in Belgium, 2012, 24 x 17 cm, 376 p.

To consult the list of our publications, click here.