Les décombres de la guerre
Bruno Benvindo & Evert Peeters
Les décombres de la guerre. 
Mémoires belges en conflit, 1945-2010 



Bruno BENVINDO & Evert PEETERS
Les décombres de la guerre. 
Mémoires belges en conflit, 
1945-2010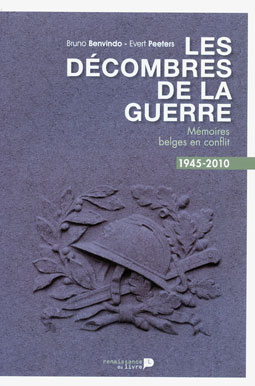 Why did the Belgians never succeed in coming to terms with the Second World War ?

The liberation in 1944 was not only the end of a war. It was also the beginning of a painful fight for its memory. More than other countries in Western Europe, Belgium is divided on the issue of the memory of the occupation. Resistance fighters and collaborators, political prisoners and victims of racial persecution created very divergent commemoration rituals. Imbued with the old Belgo-Belgian quarrels and with the new European antagonisms arisen in the Cold War period, these rivalling memories confront each other to the present day. In Les décombres de la guerre, the result of a research project carried out for two years at the Cegesoma, Bruno Benvindo and Evert Peeters describe this confrontation.
The fight for the memory of the Second World War is narrated by focusing on the central memorial places of the occupation period: the fortress of Breendonk, the Congress column, the Dossin barracks and also the Yser tower. Monuments, witnesses, ordinary citizens and public authorities attempt to exercise their rights on the past.  
Bruno Benvindo continues his research on the memory of the war at the Cegesoma, extending it to the actors and the institutions who have, from 1914 till today, brought the memory of the two world wars in the public space. Evert Peeters is postdoctoral researcher at the KU Leuven.
The book can be ordered by mail or by phone (Lut Van Daele or 02/556.92.07) at the price of 18 €, postage included (bookseller's price: 22 €).

Les décombres de la guerre. Mémoires belges en conflit, 1945-2010 [Bruno Benvindo & Evert Peeters], Waterloo, Renaissance du livre, 2012, 16 x 24 cm, 269 p.

To consult the list of our publications, click here.