Scherven van de oorlog
Bruno Benvindo & Evert Peeters
Scherven van de oorlog.
De strijd om de herinnering aan de Tweede Wereldoorlog, 1945-2010 



Bruno BENVINDO & Evert PEETERS
Scherven van de oorlog.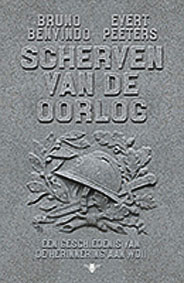 De strijd om de herinnering aan de Tweede Wereldoorlog, 
1945-2010 
Why did the Belgians never succeed in coming to terms with the Second World War?
The liberation in 1944 was not only the end of a war. It was also the beginning of a painful fight for its memory. In Belgium, different groups of victims created very divergent commemoration rituals. For more than sixty years, they related conflicting stories.
In the course of this fight, few obtained real acknowledgement.  Most encountered only disappointment and embitterment. Scherven van de oorlog describes this failure of memory by focusing on the central memorial places in Belgium: the Breendonk Memorial, the Congress column, the Dossin barracks and the IJzertoren.
Bruno Benvindo is a historian at the CEGESOMA. Evert Peeters is postdoctoral researcher at the history department of the K.U.Leuven. He wrote Scherven van de oorlog with Bruno Benvindo, as an assignment of the CEGESOMA.
The book can be ordered by email (Lut Van Daele) or by phone (00 32 556 92 07) and costs 16 euros (postage included) instead of 19,95 euros (bookseller's price).

Scherven van de oorlog. De strijd om de herinnering aan de Tweede Wereldoorlog, 1945-2010 [Bruno Benvindo & Evert Peeters], Antwerp, De Bezige bij Antwerpen/CEGESOMA, 2011, 15 x 23 cm, 262 p.

To consult the list of our publications, click here.