België en het internationale oorlogsrecht
Rik Verwaest
Van Den Haag tot Genève:
België en het internationale oorlogsrecht (1874-1950)


Rik VERWAEST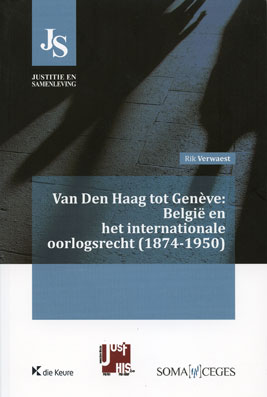 Van Den Haag tot Genève: België en het internationale oorlogsrecht (1874-1950) 
Belgium played a unique role in the development of the contemporary law of war. As a small and neutral country, it strongly opposed "total war". The Belgians advocated a war subject to regulations, where the individual rights would be more important than the law of the jungle. When Belgium reluctantly had to enter the war, these ethical principles were often confronted with the hard reality of war.
In 'Van Den Haag tot Genève', Rik Verwaest sheds light on the Belgian relations with the law of war from 1874 till today. This accessible book examines the Belgian application of the law of war during known and less known episodes from the Belgian war past: the jungle war in Africa, the terror during the occupation of the Ruhr, the German prisoners in the battle for coal...
The book is the result of a research project of the Cegesoma, carried out by Rik Verwaest from 2007 to 2009. It was published with the support of the Interuniversity Attraction Pole JustHis, 'Sociopolitical history of Belgian Justice" and is the second book in the series 'Justice and Society'.

The book can be ordered by email (Lut Van Daele) or by phone (00 32 556 92 07) and costs 69 euros (postage  included) instead of 74 euros (bookseller's price).
Van Den Haag tot Genève: België en het internationale oorlogsrecht (1874-1950) [Rik Verwaest], Bruges, die Keure, CEGESOMA, 2011, 16 x 24 cm, 299 p.

To consult the list of our publications, click here.