Anvers sous l'Occupation
Dirk Martin & Lieven Saerens
Anvers sous l'Occupation, 1940-1945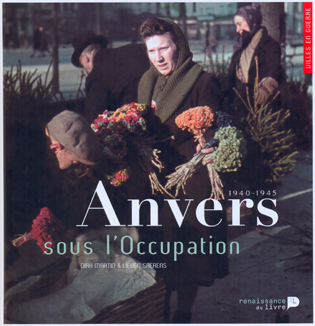 Dirk MARTIN & Lieven SAERENS
 Anvers sous l'Occupation, 1940-1945

Based on the rich photo collection of the Cegesoma, this book relates, in words but even more in images, the history of a large port from the invasion to the German capitulation.

Subsequent themes are: the beginning of the occupation, the struggle for power, daily life, the engagement in collaboration and resistance, the persecutions and the Liberation. The authors underline the specificity of Antwerp during this troubled period: the long-standing office of the pre-war municipal administration during the occupation, the persecution of the Jews, the destruction caused by the V-bombs after the Liberation and the key role of the port of Antwerp as bridgehead for the allied armies in Western Europe.
The book can be ordered by email (Lut Van Daele) or telephone: 02/556.92.07 and costs 20 €, postage included (bookseller's price: 25 €).
Anvers sous l'Occupation, 1940-1945 [Dirk Martin & Lieven Saerens], Brussels, Renaissance du livre-CEGESOMA, 2010, 21,5 x 21,5 cm, 164 p., 233 ill.
To consult the list of our publications, click here.