La Belgique et la persécution des Juifs
Anne Roekens
La Belgique et la persécution des Juifs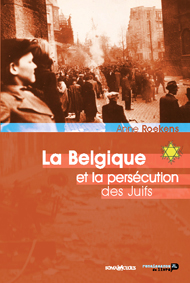 Anne ROEKENS
La Belgique et la persécution des Juifs
La Belgique et la persécution des Juifs is an abridged version of the impressive report published by the Cegesoma at the request of the Belgian Senate on the possible participation of the Belgian authorities in the identification, persecution and deportation of the Jews between 1940 and 1944. The book is an accessible synthesis of La Belgique docile presenting a chronological description of the events, informative sidebars, documents, iconographical material and timelines.
The book can be ordered by email (Lut Van Daele) or telephone: 02/556.92.07 and costs 14 €, postage included (bookseller's price: 16 €).
La Belqique et la persecution des Juifs (Anne Roekens), Brussels,  Renaissance du livre/CEGESOMA, 2010, 24 x 16 cm, 124 p. + 32 p. illustrations.
To consult our list of publications, click here.