Coming Soon – A New Unique Source Edition on Occupation and Daily Life in Europe during WWII
The project "Societies under German Occupation – Experiences and Everyday Life in World War II" wants to publish source editions that make the impact of the occupation on daily life for the different levels of the population, from Norway to Greece, and from France to the Soviet Union more tangible.
This source edition offers a unique transnational perspective on a little studied topic. The hundreds of sources of the first series dedicated to supply and shortage have now been collected and commented in view of an imminent publication.


A Multinational Team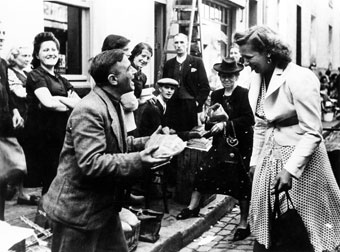 Young woman buys bread on the black market. Belgium, 1943. (CegeSoma, n° 28437)

The project is an initiative of Prof. Haslinger (Herder-Institut-Marburg) and Prof. Tönsmeyer (Bergische Universität Wuppertal). They approached experts from the different European countries that had been annexed or occupied by Germany to collect, comment and contextualise the relevant sources for an international public. CegeSoma is the Belgian partner in the project. Dirk Luyten is in charge of the research.
The Collection of Sources
 
The collection of CegeSoma is well represented in the Belgian source edition, but also the other depots of the State Archives provide interesting material (archives of administrations, company archives, thesis  of social workers), as well as the thematic archives in Flanders and Wallonia. The challenge consist in documenting different aspects of daily life in European societies and also to address different levels of the population. Thus, in the Belgian case, there are sources on artists. The perspective is bottom-up, which does not always facilitate the search for adequate material.

A First Volume on 'Supply and Shortage'

The sources are brought together in a chronological corpus. The corpus of the first theme 'Supply and Shortage' is almost completed and consists of more than 1,800 pages. It will be published in English by an international publisher. Each source will be accompanied by a brief comment and will be contextualized so as to be accessible to an international readership. An introduction provides a frame for the global problem.
The source edition is unique: it covers all of occupied Europe and offers a global perspective on the impact of the occupation on European societies. Thus comparison is made possible. Shortages are a key characteristic of the occupation, but the concrete impact and the way in which occupied societies react on it differed.
For the researchers in the different countries, the lacunas in the historiography have become clear. For Belgium for example, the history of agriculture is, for the most part,  still a blind spot 
Other Source Editions
 
In order to map other aspects, such as labour, the initiators have submitted, with the support of the partners,  an application for further funding.
Who wishes to know more on the subject can consult the new project website Societies under German Occupation – Experiences and Everyday Life in World War II.  
27 / 10 / 2016